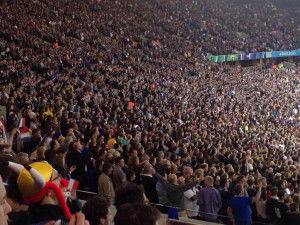 West Ham have sold 278,805 tickets for the first five games at the London Stadium, breaking the home attendance record three times in the process.
All official football attendances are based on tickets sold rather the number of supporters through the turnstiles so the absence of the ticket trader has meant a few hundred empty seats for the the two Premier League games for season ticket holders who had no legal way to re-sell their tickets to games they couldn't attend.
The London stadium has 67,000 seats in football mode but 7,000 of these are covered over on match days. A further 3,000 seats are currently not in use while the London Stadium Safety Advisory Group restricts capacity to 57,000. Many of these 3,000 seats are in the Sir Trevor Brooking upper stand.
Official Attendances at the London Stadium so far
Europa League Third Round Domzale 53,914
Betway Cup Juventus                               53,966
Premier League AFC Bournemouth      56,977
Europa League Play off round Astra     56,974
Premier League Watford                         56,974
The upcoming EFL cup game against Accrington Stanley is selling less well. Over 22,000 tickets remain on general sale for the game next Wednesday despite the tickets being priced as low as £10. West Ham recorded a home attendance of 28,930 at the Boleyn Ground for the visit of Sheffield United in the league cup in 2014 but there was a Tevez factor to that match. The previous season 23,440 attended the league cup game against Cheltenham at the Boleyn. The game has surpassed both of those attendances with the likely crowd around the 40,000 for next week.