West Ham's Dimitri Payet tops the official UEFA player Barometer for Euro 2016 and makes the dream team.
The SOCAR Player Barometer has been updated live with every performance of the opening set of matches, and we have selected a first dream XI based on its findings.
The XI was picked from the top players in each position, though in midfield the second-best defensive midfielder Eric Dier (9th overall) was chosen ahead of the top winger Antonio Candreva (17th). Sergio Ramos (8th) and Luka Modrić (10th) are the only top ten players to miss out, thus allowing the selection of a goalkeeper and two full-backs.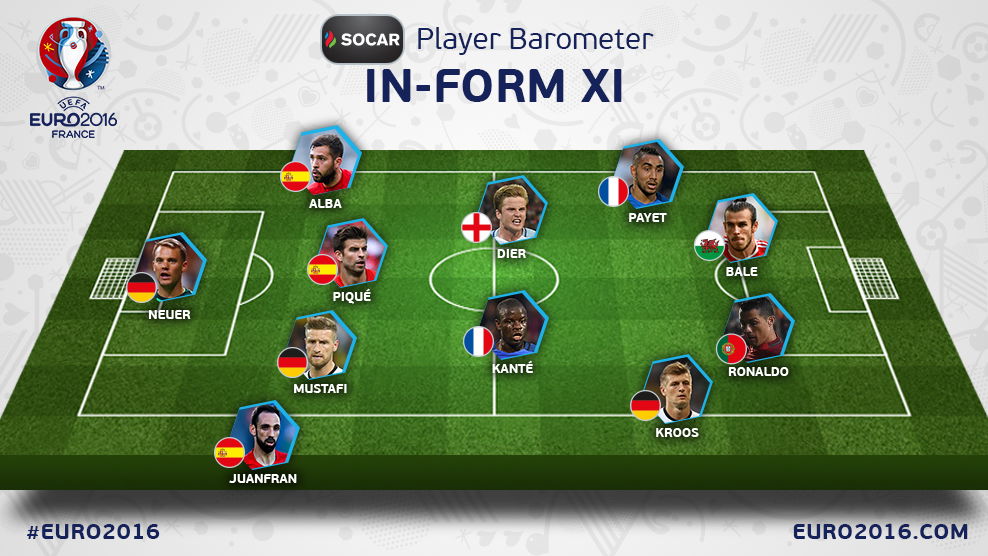 Current top players in each position
Goalkeeper: Manuel Neuer (GER) 12th
Full-back: Juanfran (ESP) 18th
Centre-back: Shkodran Mustafi (GER) 3rd
Defensive midfielder: N'Golo Kanté (FRA) 7th
Central midfielder: Toni Kroos (GER) 2nd
Attacking midfielder: Dmitri Payet (FRA) 1st
Winger: Antonio Candreva (ITA) 17th
Forward: Cristiano Ronaldo (POR) 4th
All eyes will be on Payet again tonight as France face Albania at 8pm. Unsurprisingly, Payet is in the starting line-up for France.
Payet Fact: Dimitri created eight chances against the Romanians – only three players had created more in a Euros game since 1980 (Ozil, 9 v Greece in 2012, McAllister, 10 v Germany in 1992 and Sneijder, 10 v Denmark in 2012).