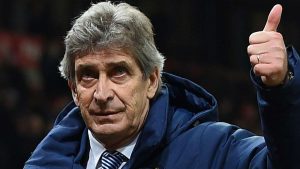 Manuel Pellegrini has again stressed the importance of the Hammers adopting exactly the tight attitude when they go into action at St James' park tomorrow (Sat).
The manager has made it clear on several occasions this campaign that every team has to be treated in the same way and it has reached the stage where anyone who forgets will pay a heavy price.
Brighton and Huddersfield away showed the squad is quite capable of giving an appearance that they only need to turn up to win and Pellegrini simply won't wear that and has declared the message clear and loud in his latest comments on the game.
What's clearly needed tomorrow is the kind of performance we saw at Everton when most believed we would be fortunate to get anything from what at that time looked a tricky game.
In the event we turned on the style and produced one of the best performances of our season – now is the time for more of the same.
Commenting ahead of the match the boss said: " "For me there is always pressure. I never divide the games into ones you can win or ones you can lose, because we only try to win.
"We've had good games against big teams, and played not so well against teams around us, so it is important to have a strong mind and understand that every game is difficult.
"Our mentality is to understand there are no weaker teams and we have to play our best at all times.
"Newcastle started the season badly, but they have a good team, and maybe their position now in the table is more realistic for the squad they have."