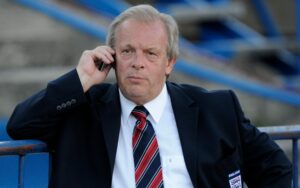 Professional Footballers' Association (PFA) chief executive Gordon Taylor says footballers do not want to be treated as "guinea pigs" when it comes to the potential return of the football. Convincing players that it is safe for football to return is a critical factor in those plans, with the captains from all 20 Premier League clubs set to dial into a conference call on Wednesday
Speaking to Sky Sports ahead of Wednesday's meeting, long-time PFA boss Taylor stressed the importance of striking a balance between safety and starting to get things back to normal.
"It's never easy when we've had over six weeks of being told to stay inside, and the next minutes it's the start of what's being perceived as the easing of these restrictions," Taylor said.
"The players don't want to be seen as guinea pigs and that will apply to everyone in professional sport.
"It's about getting the balance of safety and also trying to get back to normality as much as possible."
"We need to make sure our BAME players are properly protected if there is an incidence of higher rates with those players," Taylor said.
"We need to give everyone confidence that every single safety measure has been taken on their behalf."