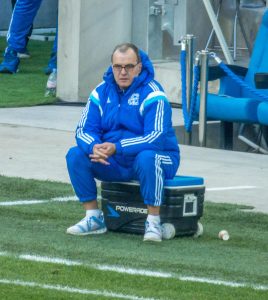 Spurs boss Mauricio Pochettino has revealed how Slaven Bilic's lone opponent for the West Ham job has been a total inspiration in his on managerial career.
Marcelo Bielsa was on the shortlist of two when the Hammers decided to let Sam Allardyce go but he missed out when the Davids opted for the Croatian.
In fairness there were good reasons for that because Bielsa is one of the most unpredictable characters in the game, demonstrated when he quit Lazio just two days after taking the reins last year.
And he left Marseilles a year earlier after a series of collisions with the club's board.
However. Pochettino makes it clear that at a straightforward footballing level Bielsa is his personal 'untouchable' telling L'Equipe he was totally inspired by the man.
Explaining he said: "Firstly, because no-one can do it like him. There are people who tried to benefit from his knowledge by being around him, others have tried to copy him but a copy is never as good.
"You can't make a good a copy of a Dali, Picasso. Many would describe him as that, others perhaps not.
"I would say he's an exceptional being, is absolutely no fool, who's gone for it – and done it – alone, and has been a source of inspiration for numerous coaches."