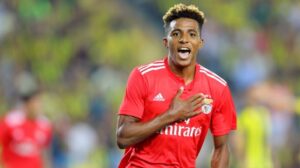 Sports Witness has translated and summarised what the Portuguese media are saying about the Gedson Fernandes transfer saga.
Portuguese newspaper A Bola say that many agents involved by saying: 'Firstly, there are two Portuguese businessmen in action, one who needs no introduction and another who has been travelling a lot to England in recent months, because of the most popular player in our championship.'
Adding: 'Then we have an experienced foreign agent, known for his strong relations in his majesty's land, but it doesn't stop there. There is also another agent (Portuguese, controversial and very famous around Benfica) that represents the company that has been conducting negotiations on the West Ham side, and that these days even turned up at the door of the player's house after realising that he wasn't answering the phone. Only Gedson feinted him: that day… he didn't go home.'
Sport Witness suggest the experienced agent could well be Pini Zahavi although it's unclear who the other one is.
Portuguese sports newspaper The Record report that after West Ham and Wolves interest, Spurs are now 'closer to an agreement' on an 18-month loan with a €60m buying option. That option isn't mandatory, so would be completely down to Spurs. A €60m fee for the player now would be wild, he's a 21-year-old who is very highly rated but he's been struggling to get in Benfica's team and hasn't progressed this season in that respect.
West Ham and Wolves are both said to have submitted offers, however, both were rejected by Benfica.
Record believe it's Pinho and Mendes working on the Spurs deal.
Another Portuguese media outlet O Jogo have it a little differently. They agree that Mendes is leading things, and report a move to Tottenham could be completed in the 'next few hours'. They also agree on the 18 month period, but state the purchase option 'can be up to €50m' and that Spurs will pay €4.5m for the loan.