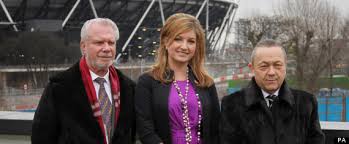 By Hugh Southon and Sean Whetstone 
Football and the passions it creates often leads to tribalistic over simplification -'lovers' and 'haters' are the two which always spring to mind!
Here at Claret and Hugh we have regularly been described as board lovers by theirs and our haters – oh that life was that simple.
It's too easy to de-stabilise the club that you have indeed loved all your life by believing that you are much bigger and more important than you are and attacking it via the printed word at the drop of a pixel.
We will never make that mistake. It's not our role. We are here to bring news and the idea that we are an extended arm of the WHUFC media department is utter nonsense.
Flies on the wall have thoroughly enjoyed some of the bitter arguments between CandH and that department on various occasions.
West Ham United don't need us – or any other website – to fight its battles and indulge it in friendly soundbites. Oh that we were that important.
It is stuff and nonsense to believe such talk – that a website such as this or any other should be considered that vital to their well being is fiction!
Having said all that we have never disguised our support of the West Ham board, just as we support every other element of the club. Why would we want to be constantly attacking it given there isn't, and never has been, a potential buyer in the near 10 years they have been in charge.
We have always attempted,  and will continue, to bring a balanced view of the news we receive from all over – our only mission since the site launched five years back on December 14th, 2014.
However, as we approach the ten year anniversary of the owners' takeover of West Ham,  cracks are starting to appear and it would be entirely naive of us to pretend they don't exist.
The move to the former Olympic Stadium was made on the promise of a world class stadium with a world-class team pushing for next-level football which we understood to mean that we would be challenging for the top six and a place in Europe.
The pair of us had split views with Sean believing it was the way forward and Hugh never wanting to leave the Boleyn. It was promoted as a great dream, but the dream was a delusion.
Over ambitious and ultra hopeful statements were issued regularly, we were over promised and there was, and still is, an under delivery.
Our owners are well-intentioned but the vision and strategy backed up by investment to match it is just not there and now we feel hard done by.
They – and us as a result – need to understand where we are and what sort of club we support and frankly it's one that is never going to be at the sort of level to which it was it was hyped.
Burnley is a great example of accepting what you are – a club where there were no wild exaggerations of what might be achievable but one where regular decent league positioning has been delivered.
There was no grand new stadium or world class players on their agenda yet they still delivered European football on a modest budget.
Maybe it's time now for a reality check at the top of our club. We are a mid-table team and probably always will be under the current owners as indeed has been the case for most of our history.
Our financial position is unlikely to change very much and will not bring us the financial riches we thought it might.
No-one is waiting to buy West Ham and invest hundreds of millions so we have accept our position in the Premier League pecking order and be happy with what we are.
If the day arrives when new owners take over we will support them too because we would consider anything else unhelpful.
We both get the disappointment, frustration and bitterness particularly in the present circumstances. We started as fans, will finish as fans and feel every bit of hurt as keenly as anyone else.
But first and foremost we are a news service. That's why we arrived on the scene and it is our paramount mission. We are not an unofficial pressure group or board support group.
We will forever be a news service – nothing else – that's it!