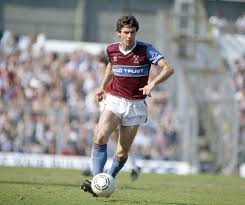 West Ham have may have failed to clinch Dundee United left-back Andrew Robertson's signature but one of the Boleyn greats reckons they should go all the way in trying to do so.
 Back in 1979, the Hammers clinched a £440,000 deal for a certain Ray Stewart.
At the time it was a record fee paid by an English club to a Scottish club for a teenager – one that stood until James McCarthy went from Hamilton to Wigan five years ago for just under £1.2m.
Stewart  had 12 great years at West Ham and is still a favourite at The Boleyn Ground,where he is a regular visitor.
He also watches Dundee United from time to time and has given Robertson his personal seal of approval.
He said: "The first time I saw him I said to myself 'That laddie's got something'" said Raymond.
"He missed only one tackle and I was impressed with his overall play.He had a great season with United last season and is a superb prospect.
"Apparently he's 20. I was 19 when I departed Tannadice for West Ham. A move to London, if it comes, will be a big step for Andrew.
"Coming from Queen's Park to United was a big step but a move down to the Hammers is a big one as well.
"It's Premiership football and massive crowds and facing up to international players on a weekly basis.
"Hammers boss Sam Allardyce knows a good player when he sees one and it's possible West Ham could come back in for Robertson.
"If he does end up with the Hammers, Andrew will find Sam to be a very good man manager.
"He'll also find West Ham to be a great club. They were when I was there and they still are. It's interesting to see that, all those years since I moved down there, West Ham have come to Dundee United for another left-back.
"Wherever he goes, I wish Andrew luck. Like I say 'That laddie's got something.'"