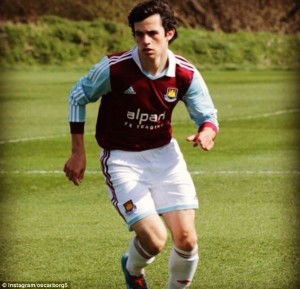 Manchester United are set to take West Ham youngster Oscar Borg on trial,  The 16-year-old Academy player has been dubbed the next Gareth Bale. It is claimed he has caught the eye of Manchester United scouts who want to offer him a trial according to the Daily Express today. Borg is not yet signed on as a scholar at West Ham and could be available for as little as £220,000 in compensation to the Hammers.
Oscar Borg is  a wing-back and has already earned comparisons to Gareth Bale due to his style of play. The youth coaches at West Ham Academy have reportedly been known to call Borg 'Gareth' but not because he is adept at competing at left back or left wing, but because they see him as a future Gareth Barry. Borg's ability is claimed to be so good that he started the campaign with the Under 16 side before winning a promotion to the Under 18s, playing for them and then being named on the bench for an Under 21 game all in one season.
His rise to fame has not gone unnoticed and Manchester United are not the only club vying for his signature as Southampton are also reportedly keen to sign Borg into a long-term replacement for Luke Shaw.