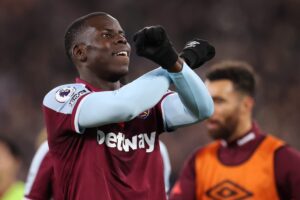 At last some good – or. at the very least, encouraging news  – is emerging from the London Stadium.
According to ExWHUemployee Kurt Zouma – as was the case during his last injury – is ahead of schedule and could feature in the last couple of games.
It all remains a bit precarious however as we have been told that the three injured central defenders are likely to be out until next season.
David Moyes has made it clear he will never give possible timelines on the return of injured players so  there is no official confirmation of the situation.
However how great would it be were Zouma available for example for a possible appearance in the Europa League Final should we get there?
As Harry would say we really are down to the bare bones at the moment  so we can only hope the news is correct despite our own sources claiming the medical staff have ruled all theee out until next term.
Writing on the West Ham Way Patreon page this week [22 April, 5:29 pm] Ex said "There is good news however and we believe that Kurt Zouma is ahead of schedule in his injury recovery.

"The club have received the positive news that he could feature in coming weeks and that he will be able to resume training now (and has today). Whilst a match comeback date hasn't been confirmed we believe it could come much sooner than first feared.

"This is the second time that Zouma has made a quicker recovery than normal. The club also hope that Diop and Ogbonna can do the same but at this point Zouma seems the closest."