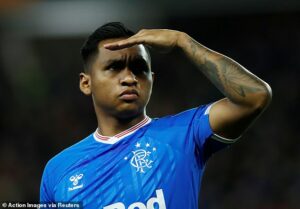 West Ham and Leicester are reported to be eyeing Rangers' striker Alfredo Morelos.
We have been linked with the front man in the past but with the Hammers desperate for a second front man, he could well be a realistic option once the window opens.
He has been widely reported as an option and there was definite interest from the Hammers last summer but a well placed source told us a serous decision won't be made until later.
Morales managed 29 goals in all competitions, his highest goal tally since joining the club in 2017.
However, he is a volcanic character and although he has improved on a poor disciplinary record this season has still been sent off on a couple of occasions.
The Hammers have also been linked with ex-Sunderland forward Josh Maja who is currently plying his trade at Bordeaux and David Moyes will inevitable looking at his favourite hunting ground – the Championship..