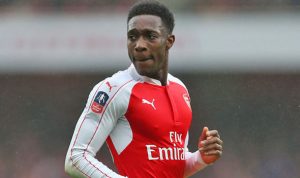 Out of contract Danny Welbeck is being tipped to join Everton despite an alleged interest from The Irons.
The Evening Standard is reporting the Toffees will even increase his £100,000-a-week wages as long as he passes a medical following his troubled past with injuries.
The Standard usually has a record for getting things right and it's to be hoped that's the case on this occasion for Welbeck's injury record and lack of goals is as frightening as Andy Carroll's.
According to www.transfermarkt.com the striker has been off injured for a total of 776 days (just over two years of course) since he joined Arsenal in 2014/15.
And last season his only Premier League goal in 12 Premier League appearances came against us on August 25 before another injury damaged spell began which kept him out for a total of 199 games starting in November.
In total he has managed 27 PL goals since he arrived in North London from Manchester United in 2014.
There has been no confirmation the Hammers were interested but Manuel Pellegrini was bitten by another former Gunner Jack Wilshere last season and is unlikely to be overly interested in another 'sick note' striker.