By Simon Leyland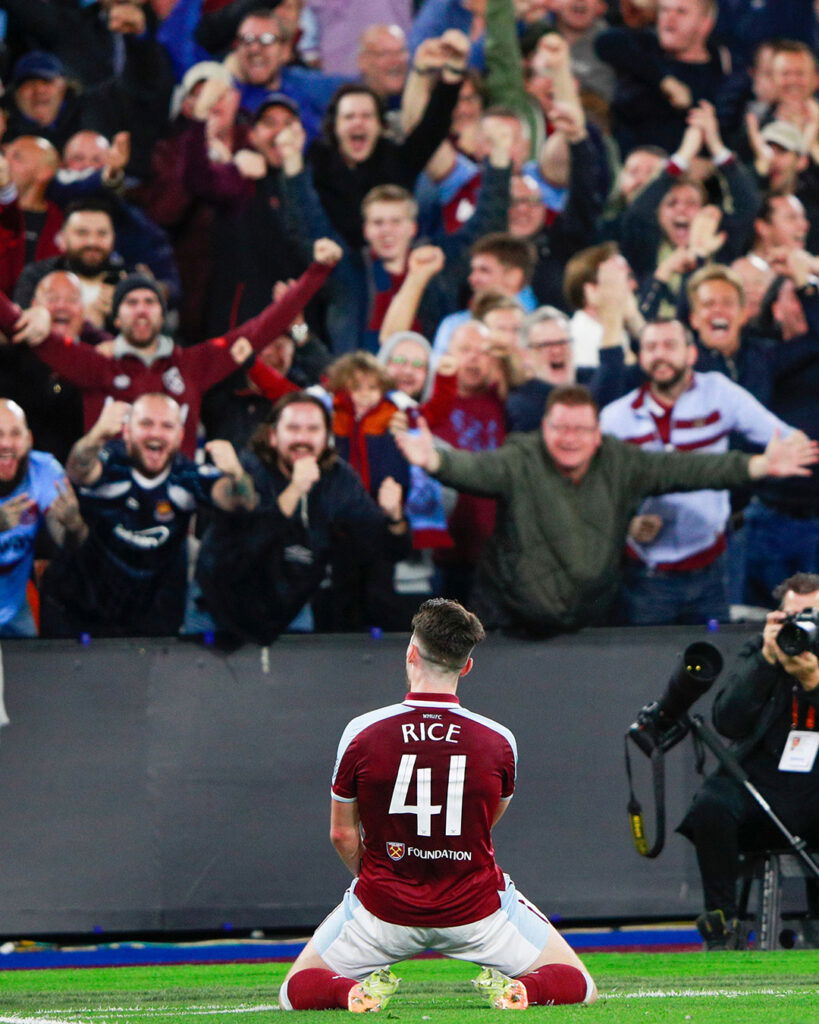 It's being reported on Arsenal websites and elsewhere that Declan Rice has promised The Gooners that he is committed to joining them in the summer transfer window.
The England international as our star player over several seasons with the Hammers youth product racking up 221 senior appearances for the club since his breakthrough season in 2017-18.
Clearly a Hammer at heart, he has admitted on a few occasions that he wants to be playing Champions League football and to get his hands on some silverware.
Sadly the only way he can achieve that is by playing his football away from the London Stadium as West Ham ( apart from the FA cup and our European adventure) are not likely to match anything that Arsenal are gunning for…excuse the pun.
However, in recent weeks there has been growing reports that Arsenal are starting to emerge as the favourites for his signature due to their position in the league and the impressive nature of Mr Knitwear aka Mikel Arteta.
The normally accurate Guardian reported on Saturday that Rice was 'favouring' a move to the Emirates Stadium and that the 'prospect of playing for Mr Knitwear was the main reason for his thinking.
Sentiment aside, you can hardly blame him as Arsenal have climbed to the top of the Premier League table at the midway point in the season with Arteta's men five points clear of second-placed Manchester City, on whom they have a game in hand.
There was talk that Real Madrid had Rice 'on their agenda' ahead of the summer and have been 'following the West Ham United captain for a long time'.
But he has told Real Madrid there is 'no chance that he will end up joining' them after Rice 'already decided where his next challenge will be'.
The Spanish sports paper Nacional insist that 'he has given his word to Arsenal' over a summer transfer with Arteta asking the club to push the boat out for Rice in the summer.
Furthermore, they claim that the transfer is 'completely closed' and £80m-rated Rice will become 'the most expensive deal' in Arsenal's history.
It is a shame but sadly inevitable as but you can`t blame Declan for his ambition after his magnifocent servant to the club.