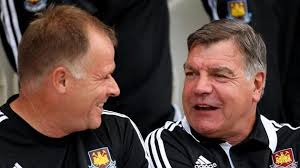 Sam Allardyce is set to take his place in the dug out tomorrow night for the FA Cup Third Round replay against effort declaring: "I'm not totally there but the anti-biotics are working."
A win and place in the fourth round would be the perfect tonic but he claims that our failure to see out recent games is a concern.
He said: "It's a concern, we are not as free scoring as we were. The results have dipped a bit but the performances haven't. One thing that has to happen is we get to more resilient defensively.
"We've been talking about that all season. We're becoming a much more creative side but our defensive weaknesses have been exploited too much."
"We've only had four clean sheets so far and that's not good enough to keep you in the top six. If you look at Southampton, they're up there because they've had 11 clean sheets in 21 games. That's why they're in the top four and we're not."
The Hammers have suffered no further injuries apart from "kncoks and bruises " which Allardyce says he hopes will have all been cleared out by Tuesday meeting.