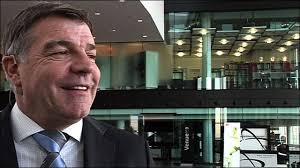 Sam Allardyce claimed in his morning press conference that it's business as usual at Upton Park despite the uncertainty surrounding his future.
The manager – answering some pretty straight questioning – made it clear he would continue to act professionally until the decision over his future was made.
The official website reported that he was asked: 'With only seven games to go until the end of the season, are you able to plan ahead for next season when you don't know if you're going to be here or not?'
Allardyce responded: "We sat down yesterday and began to plan for next season, when we're coming back for pre-season, where we're going to go and who we're going to play. It's not fully evolved yet but the plans are in place."
The follow-up question was: 'People might be surprised to hear that because you don't know if you're going to be here, do you?'
The manager replied: "No I don't. But when you're contracted to a club you do the job that you're paid to do, one of those roles is to plan for next season."
Reminded that David Sullivan had said the last 12 games had been very disappointing he added: "The reality is there is a difference between the performances and the results. Having said that the bottom line is winning and getting results and we haven't done enough of that recently.
"We're all disappointed in the last few results and I accept that. I have to emphasise results because we've come close to winning some major games of football. We have to look at the season as whole, not just a few games and I think overall it's been terrific, it's been very exciting."
And asked whether Sullivan's desire for a European campaign was on, he added: "We need to win five out of the last seven games at least, if not more.
"We do have another alternative by qualifying through the fair play league. The most important thing is Stoke on Saturday and trying to get three points."