By Richard Oses
Founder of Bubbles Fanzine @https://www.facebook.com/bubblesfanzine?fref=ts
The views expressed here are solely those of the blogger and are not necessarily shared by ClaretandHugh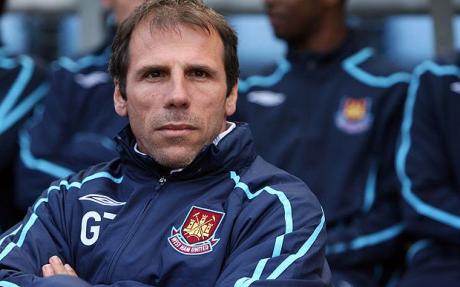 Gianfranco Zola spoke out today as to why Sam Allardyce has had so many issues as West Ham manager during an interview with Talk Sport and reported on this site earlier today.
He highlighted what we all know, that Allardyce's style of football and recent results have not been what most want or require.
It got me thinking about the little Italian's spell on the West Ham touchline and how liked he was by the fans.
The results were bad, it was definitely the wrong Boleyn time for the Italian and we came too close to relegation for comfort. However I don't recall such dissent from the fans towards him as the big one has received. In fact I think he was quite liked.
I remember how highly Jack Collison spoke of him when I interviewed him recently. He was in awe to train and play for such a legend. The likes of Jack and Diamanti were taken under Zola's wing and nurtured by him.
He is a caring, kind and very clever football man. He's half way there on those points alone! Not to mention the attractive football he had the team playing. And who can forget him taking coffees to the journalists waiting outside his house trying to grab interviews.
For all of that he is of course nowhere near ready to take on such a project as West Ham right now, no more so than he was back then. He will need to have some decent experience under his belt for quite a few years first.
However, his passion and character is something that I wish could be bottled and poured down Sam's throat by the gallon full.
Seeing as that cannot be done, I hope that whoever we do have as our next manager will lead us to where we deserve to be, but if and when the time is right, be it in five years time or more, Zola is my number one choice. The guy is a legend.