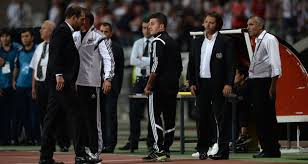 West Ham boss Sam Allardyce claims its nearly impossible for managers to keep their cool in the dugout when sparks fly on the pitch.
He watched former West Ham icon and Besiktas Slaven Bilic sent to the stands against Arsenal earlier this week.
And he commented: "Touchline behaviour is something you can't always control particularly when you are starting out in the job.
"But I don't think fans have a problem with it – most like to see a manager expressing himself.
"All managers come in for criticism whether we're too active or not active enough, too volatile or not volatile enough."