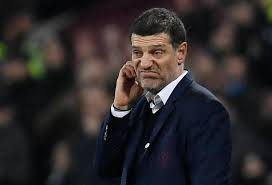 Slaven Bilic has said he would speak to West Ham's owners when the call comes.

"I will speak to them when they call me," the Croatian told reporters. "I will face the consequences.
"I'm strong and I never hide."
"Of course I believe in myself, my staff, the players. I've come so far from a small country, first as a player then as a manager. I'm definitely not a broken man.
"I'm very strong. But the situation for West Ham is not good."
"When you have a corner you want to score but also you need enough players at the back to stop the opponents doing what they want on the break. We had three (defenders) back but maybe not in the positions where they were meant to be.
"You can't have four of five back for your own corner."