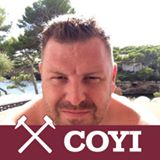 Long time CandH Twitter follower, Facebook forum member and all round good guy Pete Ellis, makes his bow as our latest blogger by explaining how Slav has give that sad old expression 'Respect the Point' its real meaning.
No need for a CandH disclaimer – we agree with every word!
Respect the point !!!
If, like me, those three little words have made your teeth itch over recent seasons, read on.
We are all very familiar with the phrase, first uttered by the amazing Allardici, after another result where West Ham snatched a draw from the jaws of victory.
 The irony is not lost on me that the 'respect the point' phrase, which caused such disharmony, upset and downright anger, has now been reclaimed by the current management team and been transformed into something which can actually be acknowledged and indeed of something to make us PROUD.
Although they've not said it, they would be perfectly justified in doing so.Under the previous manager, the phrase was yet another distraction technique. Another way of diverting any blame or accountability for what would normally be another underwhelming performance, and result.
Respecting a point at home against the cannon fodder of the league is not something to be celebrated.
In an extreme circumstance, such as an unjust red card, and having to battle through with 10 men to pick up a point, you could argue otherwise, but no. Under Big Sam,the respect the point tag was trotted out during games where the team, the tactics and the in game management, were way below what was expected, dare I say demanded of a West Ham manager.
Playing poorly at home, with a full squad (or certainly not one missing 5/6 first teamers at once) against the worst teams in the league, only to change things with the inspired 65th minute right back change of JOB on for Demel, was not something that the West Ham faithful would appreciate.
Expecting us to fall for a line such as this, only goes to show the lack of relationship and understanding Sam had with the Boleyn crowd. If we lost, the ref, lino, ball boy, tea lady, and his dry cleaner, would all have to shoulder some of the blame from Allardici, but the man himself was telfon.
In stark contrast to this, we have Mr Bilic.
The connection with the fans is common knowledge, so no need to dwell on that. What we should look at, is the autumn/winter period where we were decimated by injuries. Can anyone name a former West Ham manager that would have gone to Old Trafford, with so many players out, and be disappointed to come away with just a point?
Would a West Ham of old have secured points against a rejuvenated Stoke? (if you think they are still the Wimbledon of the north, I suggest you take a closer look at them) ? Would we have stayed strong in the face of a Tony Pulis side that rallied, after a freak own goal.
I think in past years, Stoke and West Brom may have caught us out in that situation, especially with the injuries. We could quite easily have felt sorry for ourselves, and invited pressure which would lead to the inevitable.
There were those who questioned Slaven's abilities in such circumstances with such questions as "What happens when we go through a bad patch. Injuries etc"
Well I think we have seen the answer.
There is no hiding after a bad result. There is no deflection of criticism, lack of ownership, or accountability. Instead we are treated to an honest assessment that we can accept, acknowledge and move on (such as Newcastle). We cant dig Bilic out for telling us what we've seen with our own eyes.
It's refreshing, and it gives his detractors (if there are any) ,nowhere to got in terms of attacking him. If we are good, he says it, if we are poor, he highlights it too. With that in mind, respecting the point during that run of draws pre Christmas, is very apt. Respecting a point when week in week out your attacking options and key personnel are dropping like flies, is very much a valid comment.
Apart from perhaps City and that west London club that was established 13 years ago by the KGB, I can see no other team that would cope with our injury crisis as well as Bilic has. Take Kane from Spurs, and they struggle, take Lukaka from Everton, and it's curtains, take Sanchez from Arsenal and they are not the force they were.
Yet here are little West Ham, crashing the top six party, despite having half the first X1 in the treatment room. I say again, I don't think any Irons manager, nor any other club apart for the two mentioned, would come through that period undefeated.
Unlike Martinez, who seems to play attack no matter what, or Big Sam and his bus, Bilic has shown already he can cope with an injury crisis, play the "West Ham Way" and also be solid when needs must with injuries.
We are versatile, can adapt, and make changes when its called for.  Its alien to us to have a plan B or C  after the last 4/5 years….what's going on ?
As soon as the reinforcements came back we saw the return to victories. Then we see a the game versus City. Seemed like a cup game to me. Both teams having a go from the off. Great spectacle and a game that has obviously made the league wake up to fact that West Ham, along with Leicester, are not going away.
Joe Hart was very graceful in his assessment that while a fair result, you could not argue if West Ham won, but you could if City sneaked a victory. Fair play, a clean scalp seemingly helps you speak common sense too.
On top of this, Slav himself said that if you are disappointed to just get a point versus City, you are a very good team.
I have to say, it's another example of the calm sensible man we have at the helm.
Respect the point is no longer a phrase to roll our eyes at. Its one to embrace and acknowledge, because this time, its valid.
Without wishing to sound to sycophantic, its looking good from Mr Bilic, and the added bonus of keeping Lawrenson and Keys in their box is just an added bonus.
Respect the point……………………..because now everyone is starting the repsect West Ham!
COYI !!!