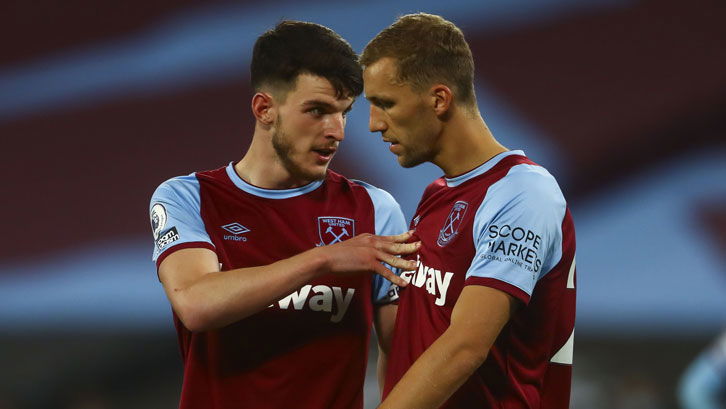 It may have taken Tomas Soucek a while to adjust his game to surely defending in front of the back four after working a that and an attacking midfielder last season.
Last night however he looked to be more than comfortable in the role and played an important part in the victory.
There were a couple of particularly noticeable moments when he headed off the line or close to it as Watford sustained a period of attack.
With Declan tearing forward at times – and weren't we glad of it against Kidderminster at the weekend Tomas has accused Tom of not looking the player he was last season.
But we'd be a much poorer team without him and he has been discussing the squad and his team mate Jarrod Bowen in particular the Czech had good things to say.
Commenting on the official site about last night's win over Watford he said: "It was very difficult for all of us, but we are happy that we took all three points off the pitch
"We defended well all the game, but before half-time we couldn't find space in their box. I could've scored only from the corner [taken by Bowen], but in the second half, it was much better. 
"I am happy that Jarrod scored. He could've added a second one, but 1-0 was enough in the end.
"He's in great form. We are happy that we have him because he's a good guy and a good player. 
"He shows us every day at Rush Green, the training ground, and also he transfers it to the games. He's an important player.
"We are not like individuals. We have a whole squad, maybe 20 players, who are very important because we operate as a team, not as individuals. It's the reason why we are where we are.
"These three points are great in the table and now we need to go for more."
He was also keen to add his sad memorial to little Isla who was remembered before the game: "We all heard it, and it was very sad, because since I came [to West Ham], I knew about Isla. I also was in contact with her and the news was very sad for everyone.
"It's just nice that we as fans, as a team and as players, and everyone, could support her and pay tribute to her. It was sad at the start, but it was a great gesture for her, and I am happy that we all did it."