Tomas Soucek – having made it clear he is seriously keen to remain at the club – is ready for Friday night.
The Watford clash may be just about the most important game of the season so far given the shock results obtained by both Villa and Bournemouth at the weekend.
But that can't dissolve the spirit and confidence gained by the Hammers via a four goal Michail Antonio-inspired win over Norwich at Carrow Road on Saturday.
With Mark Noble in inspiring form as a result of Soucek and Rice bedding down so brilliantly in defensive midfield, he and we, have every right to look forward to the visit from the Hornets with optimism after gaining seven points from the last four games.
Soucek is ready and disappointed the points tally isn't higher – spoiled by the one goal Burnley victory over us at the London Stadium.
Now he is looking at the Watford game as a big chance to put everything safe and help settle his own future declaring at https://www.whufc.com/news/articles/2020/july/14-july/tomas-soucek-im-enjoying-every-day-west-ham-united:  "It's great for me because I like games and now, when we play every three days, we don't have many training sessions!
"For us, it was very pressured on Saturday because we should have beaten Burnley three days before, but we lost, and I think we were unlucky.
"On Saturday we won so we're happy and now we have had five days for recovery, which is many days for us, so I hope we will prepare for the next game and we will beat Watford."
"I found out very quickly when I came here just how intense the Premier League is. I had played some games in Europe for Slavia Prague in the Champions League, but here it is like playing in the Premier League every three days!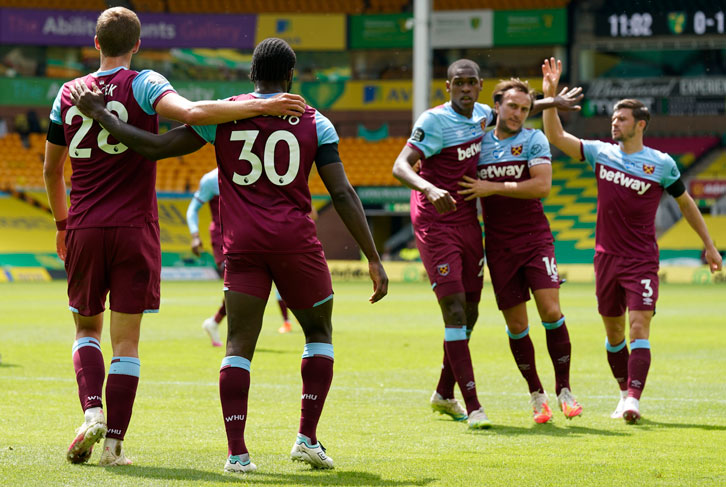 Pic: WHUFC