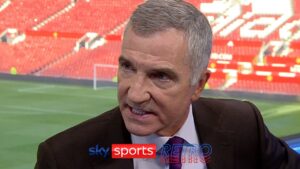 For the first time yesterday I felt a twinge of sympathy for Kurt Zouma – but then I'm not a lover of Graeme Souness anyway!
On a day when the Hammers central defender was on his way back to London with some sort of gastric problem. the sour Scotsman was busy giving him the biggest hammering he will have received since the cat kicking horror.
The bloke just went on and on and on, as he tends to, discussing his "zero sympathy" for the central defender plus much worse before attacking the Hammers over how they dealt with the situation.
He's entitled to a view and we all agree with him that Zouma was bang out of order but on a match day when the game is the thing he's there for this was way over the top.
Talk about liking the sound of your own voice and indulging in some hysterical nonsense a week after everyone else has had their say.
All the geezer needed to say was that he agreed with all those who had been outraged by what the bloke had done and felt West Ham could have dealt with it better. That would have been more than enough but that's not how he operates of course.
Gary Neville was much closer to realist with his comments saying: Zouma made a 'terrible' and 'stupid' mistake but disagreed with calls for the professional footballer to lose his job.
'It's really difficult because I think, historically, [former Manchester United manager] Sir Alex [Ferguson] would have closed ranks,' Neville said on his Sky Sports podcast.
'He would have dealt with it internally. The problem you have in 2022 is that it isn't sometimes enough to say, "I have dealt with it internally".
'Sometimes, with social media, you aren't sure how some things are going to fly as well or how something is going to grow.
'It's that balancing act of doing the right thing, but trying to stand by your team members and players who have made mistakes.
'Kurt Zouma made a terrible mistake. The reality of it is that [West Ham boss] David Moyes was left in a difficult predicament.
'I think he has just about got it right. Some people will say he got it wrong. Some will say he got it right.
'I think it's very difficult for a manager. The club have to set the tone. If that's my club, I'm taking that away from the manager. I am protecting the manager.'