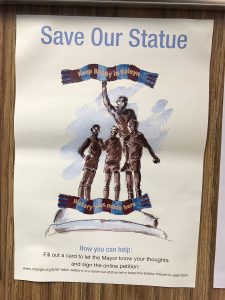 West Ham supporters have backed East Ham local people and traders in agreeing that the Champions Statue which includes Hammers Bobby Moore, Geoff Hurst and Martin Peters should stay where it is on the junction of Green Street and Barking road close to where the old Boleyn Ground once proudly stood.
Over 1,000 fans voted in a Claret and Hugh online poll with an overwhelming 83% of those taking part saying the statue should remain where it is. Local businesses recently displayed a poster in their windows encouraging local people to lobby Newham Mayor Sir Robin Wales to save the statue from relocating to the London Stadium at Stratford.
Newham council's full cabinet has yet to make a final decision but the West Ham board appear to be confident that the statue will move next season onto an empty plinth at Champions place close to the London Stadium.
West Ham Supporters would rather the club to commission a new statue for Stratford and leave the famous bronze statue in place as a permanent reminder of the history of  West Ham United in East Ham.
Poll Results: Should the Champions statue stay where it is?  Yes 844 (83.15%) No 171 (16.85%)