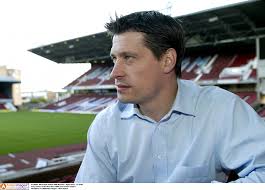 Tony Cottee is not opposed to a badge change but has made one very big proviso – as many fans as possible must be consulted before that decision is made!
TC is one of the most honest men in the world and as a columnist for ClaretandHugh always ready to give an straightforward view on all things West Ham.
He's a passionate Hammer and says: "The one thing that must stay is the crossed hammers.
"You look at that badge, you look at those hammers and as long as you've got the hammers, you've got West Ham. That's all we need. I'm a West Ham fan and I will always be a West Ham fan.
"I've got a birth certificate which says 'birthplace: West Ham.' I'm very proud of that and I love showing it to people.
"All our fans, I think there are millions across the world, and if you spoke to them all, nearly all of them would say we have to keep the hammers.
He told www.whufc.com "You've got to keep the wording, West Ham, in some form or another in the badge too, but the crossed hammers for me are the real important thing."
But he added emphatically: "What I do hope the Club do is take in the considerations of the supporters because without the supporters you don't have a football club.
"Let's speak to as many fans as possible, maybe have an online campaign, or whatever it may be.
"I think it's always nice when the supporters are asked their opinion. I'm a supporter and I'd like to keep the hammers!"
The club launched the online campaign on Monday morning adamant that Hammers fans be given the opportunity to have their say on the matter, with online consultation.