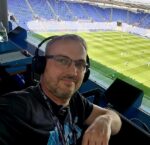 By Gonzo
There was precious little happening in East London on transfer deadline day, or January 31st as it used to be called before Sky Sports.
Whilst our rivals strengthened their squads for the Premier League run-in, The Hammers missed out on FC Lorient's Terem Moffi, and pulled down the shop shutters for the day.
It was eerily quiet on the West Ham front with barely a murmur of transfer tittle tattle. As the Sky banner rolled across the screen, presenters and former footballers excitedly reported a plethora of deals for an assortment of clubs.
Alas, the Hammers played little part in the final days proceedings. No links, no loans, no dubious unheard of players winging it in on a private jet to sign for Moyesie. We didn't even manage to sign a rickety journeyman to cover for Craig Dawson, David Gold would have said, 'Go to bed, DG'.
So we go with what we've got and hope that David Moyes can turn things around. We'll have to keep our fingers crossed that the multitude of injured players return to fitness, and pray that those who've lost form can find it again.
Last winter window we were unable pinch Jesse Lingard from Manchester United because we were deemed to be 'rivals'. This window we were unable to sign Michael Keane from Everton because we're. . . erm. . . deemed to be 'rivals'. Quite a shift in the space of 12 months.
Over to you Mr Moyes.