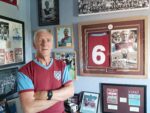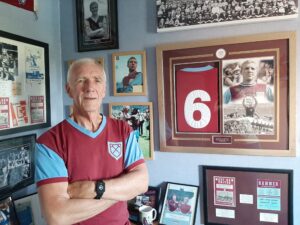 CandH's top blogger ALLEN CUMMINGS is naming his top 10 Hammers during a lifetime of supporting his beloved club. Al goes back a long way and today he gives you who he considers the seventh best player in his personal Hammers history.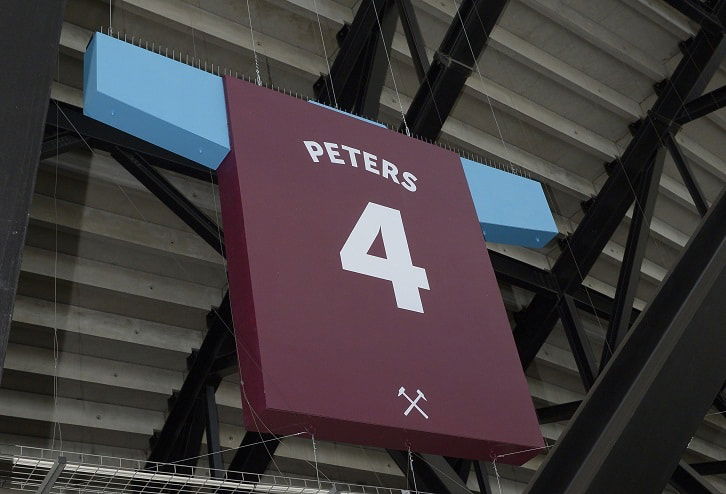 No. 7  –  MARTIN PETERS
I once read something that described Martin Peters as the least famous, but arguable the most complete footballer of our World Cup winning trio of Moore, Hurst and Peters. I think that's a pretty fair assessment.
He could defend – and 'put his foot in' – when he needed to. He could attack and score goals with deadly accuracy. He could create for others with perfect timing and vision.
He could even play in goal, as he did when deputising for the injured Brian Rhodes in only his third senior game for the Hammers. In fact Martin played in every single position for West Ham during his years at the club.
Peters partnership with Geoff Hurst was legendary, not only for the Hammers of course, but England, too. Sir Alf Ramsey famously describe Martin as being 10 years ahead of his time.
Some people chose to mock that assessment – they didn't really understand what it meant. Ramsey was simply pointing out Peters already had the skill, technique and vision suited to a era of football that was only just beginning to develop.
Martin scored 81 goals in 302 league appearances for West Ham, many of them coming as he drifted anonymously into the penalty area, unnoticed by defenders, to strike before they even knew he was even there.
It became his trademark and inspired his nickname of 'The Ghost'. Unassuming and quietly spoken, he was a perfect gentleman and a wonderful ambassador not only for our club but also for his profession.
Martin Peters sadly passed away in December last year – but his memory will always remain precious with me!