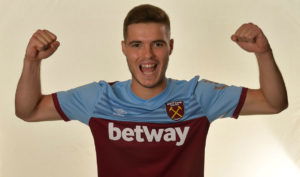 Summer signing Gonçalo Cardoso was thrilled with the way West Ham's Under 23s bounced back from defeat at Cheltenham Town to see off Stoke in a fine  4-0 victory last night (Mon).
He was speaking after producing a hugely impressive performance when making several goal saving interventions at the Bet 365 stadium.
And the victory means the Irons youngsters have now extended their Premier League Two Division Two to eight games.
Cardosa was a late summer signing and was seen as one for the future but looked quite outstanding at the back last night.
And two goal Nathan Holland again pressed his claims for an involvement with the first team squad firing home before and after the break as the team maintained its position at the top of their League.
It may be small consolation after the defeat of the first team at Everton but there's little doubt that our Development team is showing hugely promising form.
And Cardosa commented @ https://www.whufc.com/news/articles/2019/october/22-october/goncalo-cardoso-u23s-performance-perfect-reaction: "It was a great game against a difficult team. They were in third, and had players who had already played in the Premier League, so we knew beforehand that it would be a difficult game.
"It was a top-of-the-table league game and we won, so we are very proud of our performance. It was a brilliant performance as a team."
"The clean sheet was pleasing of course for all the team, but especially for the defence, because you always want to keep one.
"I think the team go into every match really concentrated. We know that we need to always be switched on.
"They had experienced players, so we knew that if we waited to get into the game, we would concede goals rather than score them. I think we started the game really focused, and as a result scored very early."
"It's a challenge to play twice inside a week, but when we become professional, senior players, we will always be playing two," he reflected.
"It's a good way to prepare us. Right now, we're enjoying the win, but from tomorrow we'll start thinking about the next game away at Norwich."