EXCLUSIVE by CandH's northern man Terry Robbins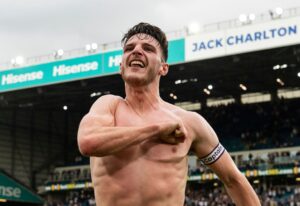 Manchester United fear a £120m Declan Rice bidding war with rivals Manchester City, according to senior sources at Old Trafford.
Claret&H can reveal United players and staff were raving about Dec's performance in the wake of Saturday's gut-wrenching late defeat, having seen him boss the centre of the park all afternoon.
It's understood from one member in the United camp that Rangnick was imploring his own midfield to be more 'press resistant' to Rice during the half-time interval.
And United insiders state the club's transfer committee has given the green light to lodge an official offer for Declan which will surpass the current £100m, British-record fee City paid to sign Jack Grealish from Aston Villa last year.
The red side of Manchester, however, are uneasy about how high the price may eventually go for Dec, with United chiefs aware Pep Guardiola has spoken within his own circle how highly he is rated at the Etihad.
Veteran midfielder Fernandinho is expected to finish playing at City at the end of the season and although the Premier League champions already have Rodri, Rice is greatly admired.
United want Rice to replace Paul Pogba and team him up with Aston Villa playmaker John McGinn, with the added tempting carrot of being an automatic starter, unlike at City.
A United insider told us: "United do fancy their chances but they remain worried about City and also them driving the price up even further.
"The irony is United scouts have previously flagged a perceived lack of pace in their reports on Rice, but the people who make the decisions at the top have absolutely no doubts.
"They know West Ham were asking £100m last year and are really worried the price could go well beyond it, with the two Manchester clubs going at it.
"United's hope is that City still need to focus the majority of their summer spend on signing an elite striker and it will keep the Rice price relatively sane."