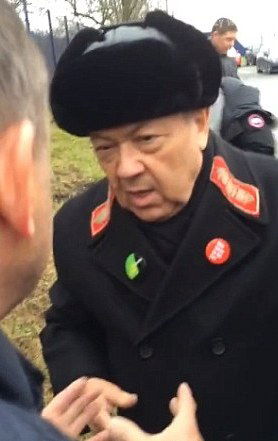 Were it not for the fact that David Sullivan and David Gold love West Ham for their lives I could see them walking away from Upton Park after the events of Saturday evening.
AND NO I AM NOT BEING MELODRAMATIC !
History tells us many things and the type of mob rule that saw David Sullivan cornered and abused outside the Hawthorns was precisely the type of behaviour that helped lead to the duo's departure from Birmingham City.
That was a year on from relegation in 2005-06 when the Birmingham fans went completely crazy, tearing down the goal posts, abusing the players and owners in one of the worst examples of lunatic football behaviour ever!
The team had also suffered a 7–0 home defeat to Liverpool in the FA Cup quarter-final.
On the same night as the club's relegation and those shameful scenes, the club's end of season dinner was being held and because of the quite shocking behaviour and abuse directed at him, DS failed to turn up and DG was left to man the fort.
I was covering midlands football for national newspapers at that time and had come to know David G well. I remember him saying to me very sadly: "After that I don't think we can go on…" approximately a a year later they had left Birmingham City.
The money helped of course but the depth of hurt in DG's eyes is a memory I've carried with me to a lesser or greater degree since that time.
The scenes on Saturday may have been on a smaller scale but in some respect that made them worse – the threatening behaviour of David Sullivan, the sexual abuse of Karren Brady, the disgusting language in general as the co chairman attempt to make peace, is horrifying X-certificate stuff.
Because it was at such a smaller scale it was so so much more personal and not easily forgotten by the recipient.
What will be the fall-out from this? The first should be that every single individual involved in the 'attack' – for that's what it was – on DS should sit down and write a personal letter of apology to the man.
In the absence of that, I hope the club draws on all the resources possible to hunt these people down and land them with club bans.
If a guy can be taken to court for running on the pitch and taking a drunken free kick earlier in the season, these morons should be run out of our club.
Like every person who has contributed to the forums both here and on the ClaretandHugh Facebook group, I feel sickened and ashamed that these people are members of our football club.
And whatever action the club takes against them – if any – we are ready to offer any help from anyone here who may recognise any of those involved.