By New Claret And Hugh blogger Max Willow
On Friday evening, we welcome Brighton (aka Seagulls) to the London Stadium, for a game of significant importance to both sides. A win for either side could result into a comfortable mid-table position, whereas a loss could send either team back towards the relegation zone.
Brighton, have performed quite well this season, and even against the stronger teams (like Manchester City and Arsenal), have only lost by a respectable 2-0 margin on each occasion. On paper, they have very few stand-out players, with the one exception, Frenchman, Anthony Knockaert. That said, Brighton have an all round quality squad of well-drilled players, who combine very well together on the pitch. Much of the credit goes to their manager Chris Hughton, a fine player in his time, and an impressive managerial record to match. Over 367 games, he has attained a 43.3 winning percentage, all obtained with EPL and/or Championship League sides.
Hughton places great emphasis on two aspects of management: "As a manager, I've got to make sure they have the optimal training sessions" He also places great emphasis on player and team discipline, which he believes, leads to a positive sense of self-belief. In some ways, Hughton's team resembles Sean Dyche's Burnley side. Like Dyche, Hughton, also favours the tight 4-4-2 formation.
A Hughton team is well organized, expansive when attacking, but tight when defending, always working hard, and builds its success on the down-to-earth character of its players, combined with a remarkable team spirit achieved through emotionally intelligent man management.
A brief glance at the Brighton squad, may suggest that, French winger, Anthony Knockaeart is clearly their best player. Unlike other teams, Brighton is largely devoid of individual stars or prima donnas. Instead they work as a collective. That said, players like Pascal Gross, Tomer Hemed, and the Colombian midfield playmaker, Jose Izquierdo, are all very dangerous  on their day.
On paper, West Ham probably has the slightly stronger of the two squads. Bilic has undoubted ability, but his biggest hurdle, will be to demonstrate a greater flexibility in tactics, especially the use of formations, and correct player selection. After a first season (with Dimi Payet running the show), we obtained some tremendous results, against the strongest teams. For much of the season, we were consistently vying for a top 6, or even a top 4 finish. However, our last 6 games in that first campaign under Bilic, resulted in an unexpected team implosion, and in the end, we were fortunate enough to finish in 7th position.
The second season was very unsatisfying; Payet was clearly frustrated, and for much of the second half of the season, we were in serious trouble; Bilic still relied on his favored 4-2-3-1 formation, which failed to produce an established striker, despite the import of several promising players like Simeone Zaza and Jonatthan Calleri during the summer.
Bilic owes much gratitude to the sparkling efforts of Michail Antonio and Manu Lanzini. The game that was to change our fortunes, took place in May at the London stadium, when West Ham defeated Spurs, 1-0, in a spirited , backs to the wall display. While Lanzini was voted Man of the Match, on the day, our custodian, Adrian put in a heroic effort- saving up to 6-8 point-blank shots in the first half, using hands, feet, and his body, to repel one attack after another. Yet few people remember this outstanding performance, and the argument still remains whether he deserved to lose his place to Joe Hart, who had clearly lost the confidence of Pep Guardiola. While the official records will show that we finished in a 'respectable' 11th position, it was a very poor performance where relegation remained a constant threat.
Our third season under Bilic, began in a disastrous manner, losing the first 3 games, including a 4-0 thrashing at the hands of Manchester United on the season opener. Bilic persisted with the 4-2-3-1, and making it clear to all and sundry, that a fit Andy Carroll playing up front, would ultimately turn around our fortunes. To his credit, Bilic has since dispensed with the single lone-wolf formation, in favor of the 3-5-2 or 4-4-2 formation, but still favoring Andy Carroll in favor of Chicharito, who was moved to the right wing? Meanwhile Diafra Sakho, remained on the bench, gaining very little playing time, although proving his worth with some great combinations with Arthur Masuaku, who has risen to prominence with some fabulous plays down the left flank. On Friday night, Sakho will hopefully start the game, following the dismissal and suspension of Andy Carroll in our last game against Burnley. So at this point, it is fair to say that the jury is still probably out regarding Bilic's tactical prowess and flexibility in player management. While Slav has obtained a winning percentage of 49.01, one must take into account that most of this was achieved as coach of the Croatian national team (2006-12), and an impressive stint with the Turkish Superlig side, Besiktas. Although, Brighton does not boast a team of world-class players, they have a very astute manger who will be keen to show that his team's promotion to the EPL was well justified.
For this game, it is my hope that we can start the game in a similar manner to how we played in the early phase of the 2nd half against Burnley. I firmly endorse beginning every match, in an attacking manner, having gained comfort on and off the ball within the first 10-15 minutes, and in doing so, gaining the all-important early initiative. The use of short, fast, diagonal passing is highly desirable, in contrast to stereo-typed sequences of vertical and horizontal passes on the flanks.
A finely-tuned midfield engine will quickly convert into a sense of domination and momentum in movement throughout the entire team. Quality possession, characterized by accurate, smooth passing, combined with intelligent dribbling, will quickly expose any opportunities to launch attacks on goal. Assuming the use of an optimal formation, we should ideally be looking for the all-important early, opening goal. The psychological effect of this high press attacking style can be devastating to an unsuspecting opponent. In gaining the early initiative, the probability of scoring first, tends to increase. In turn a strongly motivated, cohesive team will work quickly towards a second successful strike!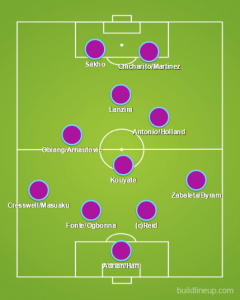 The 4-4-2 (diamond) formation which I have suggested for the Brighton game, has the advantage of adopting a narrow set-up, while maintaining the option of changing to a wider configuration, when required. In addition, if midfield possession should prove to be problematic, only minor changes are required to modify into a 3-5-2 formation.
The back four offers our manager a number of options, including the possible inclusion or introduction of Arthur Masuaku (left back) and Sammy Byram (right back) to allow for overlapping wing play on either side of the pitch. The diamond structure in midfield has been favored ahead of a flat four. The staggered structure tends to encourage diagonal and cross-passing from the opening whistle. The two defensive midfielders, Pedro Obiang and Cheikhou Kouyate could have a dual role in supplying passes to players in more advanced positions, as well as making short bursts into open spaces close to Manu Lanzini, who naturally fits into the tip of the diamond. Such well timed runs, can suddenly re-define the offensive unit into a 5 or 6 man attacking force, which could be very profitable. I have allowed for the possibility of including Nathan Holland on the right midfield/right wing, since Michail Antonio appeared to be still struggling with calf muscle injuries in the last game. All four mid-fielders will be required to participate in extensive inter-passing in addition to feeding Sakho and Chicharito with a constant supply of quality ground passes. At the time of writing, there have been concerns relating to the fitness of Chicharito. Toni Martinez, who has been in great form for the U-23's, may get a chance to join Sakho up front. Bilic also has the option of using Michail Antonio as the second central striker. Considering the fact that our squad is close to full strength, I am hoping for a successful outcome against a well organized Brighton team.