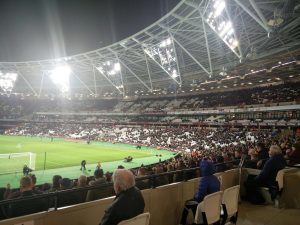 West Ham United have officially confirmed the reason for missing seats at the London Stadium last season.  Official minutes from the Safety Advisory Group (SAG) chaired by Newham council reveal the real level of non-attendance by West Ham season ticket holders for the first time. The minutes can be found HERE
In a discussion with the safety group about a possible capacity expansion to 60,000 next season West Ham were asked to clarify the question of non-attendance by fans.
The minutes record: "West Ham United clarified that between 9- 17% of season ticket holders do not attend individual games throughout the premier league as a standard" 
With 52,000 season ticket holders at the London Stadium, 9% would account for 4,680 missing while 17% would account for 8,840 season ticket holders missing from Premier League matches.
Last month West Ham changed their terms and conditions for Season ticket holders with a new clause which will allow the club to withdraw season tickets if the holder does not attend seven or more Premier League matches.
The clause says: "Failure to attend more than 7 Premier League games may result in the Club withdrawing your season ticket. Utilising the Official Ticket Exchange or Official Ticket Transfer will constitute as attending."