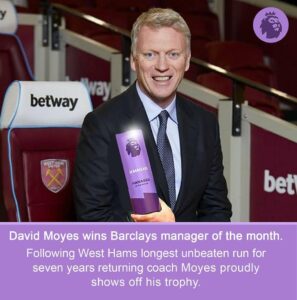 It is almost twenty days ago since West Ham played its last Premier League game.
That was an unlucky one-nil defeat almost three weeks against Arsenal at the Emirates.
It probably feels like a lot longer to many but we are not even at the halfway point yet of no football.
The Premier League has postponed fixtures until the 30 April at the earliest which will mean the Hammers will go unbeaten for  at least seven weeks and David Moyes will be unbeaten for the month of April.
Of course, the chances of resuming any football at the end of April seem very remote and the Premier League will resume talks about the impact of the pandemic at its next club meeting, which has been scheduled for April 3rd.
It has been reported that the Premier League is scheduling a plan which involves games resuming from June 1.
That would leave West Ham unbeaten in eleven weeks in total since the trip to the Emirates on 7th March.