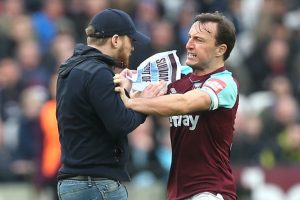 West Ham have confirmed they have issued lifetime bans to five individuals who entered the field of play while further supporters have been banned for violently throwing objects with intent to injure or harm.
In a statement on the official website the club say:
"West Ham United can confirm that swift and decisive action has been taken against a number of spectators who breached stadium regulations or were found to have committed acts of severe violence and physical aggression at our recent Premier League match against Burnley.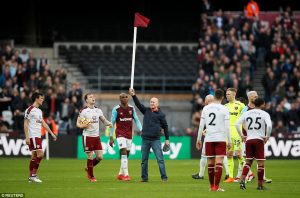 Lifetime bans from all West Ham United matches, both home and away, have today been issued to five individuals who crossed safety barriers to enter the field of play – a criminal offence that is a severe breach of stadium safety regulations – while a number of individuals have also been banned for life for violently throwing coins or objects with intent to injure or harm on the bridge directly in front of the Directors' Box.
Furthermore, a number of additional incidents, including attempted pitch incursions and acts of violence, are currently being investigated in collaboration with stadium operators LS185 and the police. The Club expect to issue further bans based on witness statements and the high quality CCTV footage available, prior to our next home match against Southampton on 31 March.
West Ham United would like to reiterate that the safety and security of our supporters, players and staff remains our absolute priority at London Stadium. We take a zero tolerance approach to any form of violence that endangers the welfare of others, and we are committed to ensuring a safe and comfortable environment for all spectators."