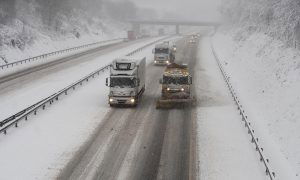 West Ham's first team squad left London at 1 pm this afternoon to make their dangerous journey to Wales where they face Swansea tomorrow at 3 pm.
Despite amber warnings being issued by the Met Office for large parts of England and Wales, the Premier League have decided the show must go on and accordingly West Ham have no option except to travel.
David Moyes told reporters at Rush Green 9 am this morning "The Met Office is saying people shouldn't travel, especially through Cardiff and down the M4. 
It is a concern at the moment and I'm guessing it shouldn't be any different for football teams and fans. I think the Premier League may need to look at that."
Local news in Wales says "Trains and public transport are disrupted by the bad weather. There is also a warning of treacherous driving conditions on part of the M4 around Newport and Cardiff"