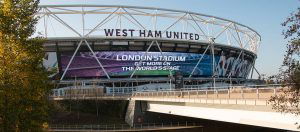 West Ham proudly announced they have the biggest TV screen in Europe when they moved to the London Stadium last summer.  The high-definition (HD) screen on the outside of the former Olympic Stadium measures 83m wide by 12m high.
Many mocked the Hammers for this claim to fame but soon their bragging rights will be no more when the Allianz Stadium in Munich, Germany gets a makeover.
Bayern Munich's home will be upgraded in €10 million programme of work this summer.
A series of improvements will be made to the stadium, built for the 2006 World Cup, over a 10-week period.  Jurgen Muth, the CEO of Allianz Arena Munchen Stadion, told Bayern's official magazine that floodlight strength would be increased, enabling the stadium to apply to host another Champions League final. He also said the biggest LED video screens in Europe will be installed as part of the makeover, with work potentially beginning in June.