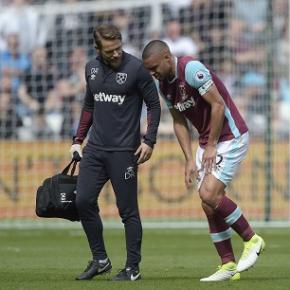 It's a given, I guess, that many now have some misgivings over Winston Reid's future!
Out for the whole of last season and this, he has been expected to make an Under 23 match action return on at least three occasions this season.
And – as reported here – he was expected to get a run-out in the Under 21s Leasing.com Trophy at Cheltenham last night but didn't  make the squad.
We have been told that he is now fully recovered from his knee injury received in Premier League action at Swansea and is back in training.
At much the same sort of age Andriy Yarmolenko has made a successful return from an equally devastating injury – a ruptured achilles – and looking good.
But in updating Winston's position a week ago manager Manuel Pellegrino said: "The problem with Winston is that, two or three times before when he was ready to start, he had another muscle injury,"
That sounds a little odd given that on the one hand we are told he is over his injury actions but is apparently suffering muscle injuries whilst is out of action!
The cost in wages whilst he has been laid off comes out at about £4 million over the 484 days he's been out but that's par for the course in football with long term injuries.
What's of more concern, given he has a history if groin, calf, adductor and hamstring injuries over the past three years, is whether the laid back and quietly spoken central defender is going to make the total recovery for which we are all hoping.