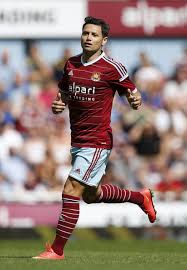 Former Hammer Mauro Zarate remains frustrated after his £1.6m move to Fiorentina.
The Argentian has not been a regular in the Fiorentina first-team this season, starting just four times and has already been linked with another exit in the summer.
However, his brother and agent is putting a brave face on it by insisting.
"Despite the complicated period for the Viola, his season up until now has been positive and we're satisfied with this. Clearly he'd like to have more space. Like every player, his desire is to play as much as possible, but it's the Coach's choice and Paulo Sousa's decisions must be respected."
When he joined Fiorentina he hit out at West Ham by saying:
"I'm happy to be back in Italy with a great team, and to show how I can play," said Zarate.
"It's a good chance for me to get back on track. In England, it was good because English football is enjoyable, but I wasn't too comfortable with my role at the club and that's why I decided to come here. I prefer to play in a free, attacking role, one that allows me to roam. I've already spoken with Sousa and he has assured me I'll have that."