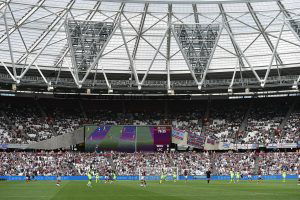 Under 5,000 season tickets will go on sale to 55,000 waiting list in two weeks time ClaretandHugh has learned.
With over 90% renewing their season tickets at the London Stadium it means demand will outstrip again on season tickets.
The club has been amazed at the high renewal rate which they say matched the last season at the Boleyn Ground.
The Hammers have modelled that approximately one in three on the season ticket waiting list will purchase tickets meaning the first fifteen thousand in the list are likely to get an opportunity of a season ticket for next season. With the proposed capacity increase to 60,000 still, in dispute, this might be the only opportunity those on the waiting list will get this coming season.
A senior source told Claret and Hugh this morning: "We achieved over 90% renewal rate which is same as the last season at Upton Park, we are amazed after the bad season we have had. There will be under 5,000 seats for the waiting list, but we think  the take up will be one in three so the first 15,000 should get seats. We are still pressing the stadium operators for more capacity, but they won't apply at the moment"