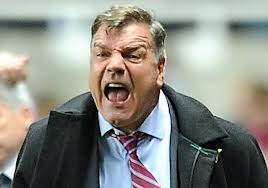 Sam Allardyce is in reflective mood ahead of the Manchester United explaining  that "not long ago I was hot favourite for the sack."
Declaring that a little while ago  he "apparently" had only a few games to prove himself he claims that it all looks different now.
He says – in his London Evening Standard column – "For Louis van Gaal, however, it was the honeymoon season.
"Now it all looks different. While we've turned in outstanding performances in all but one of our first five matches and deservedly beat Liverpool last week."
He then draws attention to reports that one of the United players in the dressing room after the game apparently "had the temerity to criticise Van Gaal's decision to substitute Angel Di Maria when it was 3-3."
Saying he doesn't believe that will have been a big problem for the United manager, he adds that dressing rooms these days are quieter whilst in his day rucks were common-place.
And unsurprisingly he adds: "Often I have to admit, I was the instigator. In fact, when I look back, I was a nightmare, particularly after a game.
I can remember managers telling me to shut up – "not you again," they would say, "shouting your mouth off."
"My character was that I believed I needed to say what I felt. If I kept it in, it would prey on my mind, I wouldn't sleep until I'd got things off my chest.
"Once it was out there I was there to be shot down, I had to try to accept that maybe I was wrong, which was difficult at times!"
Nothing much changes does it?