By Dave Langton
Andriy Yarmolenko rose from the bench and was applauded by all four sections of the London Stadium crowd. That included the Aston Villa fans, who gave the Ukrainian a brilliant reception as he sprinted on to replace Mikey Antonio in the second half.
Antonio had pulled up lame and there will be an understandable concern over his injury, which could rule him out of Sevilla, and over Aaron Cresswell too, who limped off too with another muscle injury.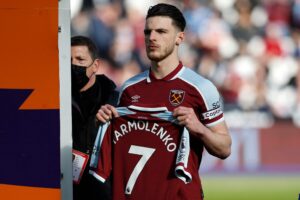 But on Yarmo came. We know his quality. We know he has it in him. It's one of the main reasons he has been a lightning rod for criticism before; he's seen as the guy who just doesn't maximise his talent properly.
But on Sunday, he was a uniting force. Yarmo came on and the crowd, all of a sudden, had an electric charge sent through it.
The fans watching on were willing it into existence. We all wanted to see it.
And then, a ball in from Said Benrahma. Yarmolenko controls with one touch, spins, and hits the ball with the outside of his boot. It flies into the bottom corner.
There is a wonderful moment after the goal that is barely perceptible. It's a split-second, perhaps not even that, but it is visible if you look for it. There's a pin-drop silence as the supporters take in what they have just seen.
Then, this time, a roar that was surely heard across London. This roar wasn't like the roar for the second goal, scored by Pablo Fornals. This one was guttural, from depths not often plumbed, a roar laced with emotion and understandable relief.
We have all been appalled by the images from Ukraine. We stand in solidarity with the people dealing with Russia's disgraceful invasion, and their illegal war.
Oftentimes, it feels totally helpless. We can't do anything, bar watch the news and post messages of support on social media.
But on Sunday, we were all allowed to unite in one moment of collective catharsis and show Yarmo just how much he means to us, and how much love is reserved for him in the Hammers fanbase.
There will be few moments like this for the rest of the season, perhaps for any season. Today, Yarmolenko delivered the perfect ending to an appalling couple of weeks.
A genuinely wonderful moment from a player capable of being genuinely wonderful.