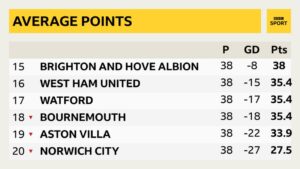 BBC pundit Mark Lawrenson says  If there is no chance of playing football and they write the season off, then average points per game is the fairest way to sort it out the points and positions. So, divide the number of points you have got now by the games you have played, then multiply that by the number of games you have got left. Add that on to your existing points for your final total.
But depending on where that leaves them, that is going to be harder for the teams at the bottom to accept than those at the top.
Teams who are relegated would claim that is not a fair method to decide relegation places and propose different methods to suit their own cases.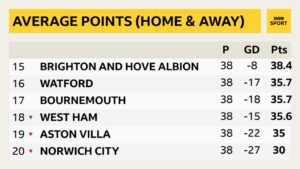 Using the average points method West Ham would finish on 35.4 points along with Watford and Bournemouth but goal difference would save them with the Cherries taking the drop.
Using a different model by splitting average points separately for home and away games, then recalculating g the projected total based on the number of home and away games each team has left, Bournemouth climbs out of the bottom three, and West Ham would be relegated.
Further background to Lawro's proposal can be found at https://www.bbc.co.uk/sport/football/52282288