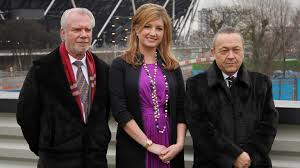 By Sean Whetstone
The West Ham board has come in for criticism for a poor season after the move to the London Stadium.
The recent LS survey showed that  32 percent thought the board were doing a Good or Excellent job, 40 percent thoughts their efforts were average while 28 percent thought they are doing a poor job.
Recent polls on the three main directors of West Ham show a vote of confidence for David Gold but less fan support for Karren Brady and David Sullivan.
In polls of over 2,000 people for each director by West Ham twitter account @WHUFC_News on 26th March the twitter polls show support for Gold, indifference for Sullivan and a dislike of Brady.
O Seventy three percent of fans want David Gold to stay at the club with the remaining 27% wanting him out. (2,292 votes cast)
O Forty five percent of fans want David Sullivan to stay at the club with the remaining 55% wanting him out (2,206 votes cast)
O Twenty seven percent of fans want Karren Brady to stay at the club with the remaining 73% wanting her out (2,157 votes cast)
David Gold recently said he would leave West Ham if 86% of fans did not want him but in reality what are the alternatives?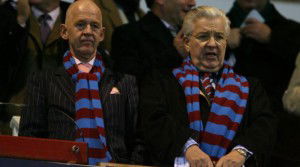 Gold and Sullivan took over from the bankrupt Icelandic consortium which left the Hammers in a financial ruin.
Remenber and speak out the names of Terry Brown and Cearns family before that and you recall a club which was not well run.
When Gold and Sullivan took over in 2010, there were two other serious bids – an American-backed financial consortium led by financial company Intermarket and the so-called West Ham self-styled fan Tony Fernandes.
He instead went to  QPR and completely ruined it.
The Canary Wharf-based Intermarket FX bid was largely based on a business case of borrowing over a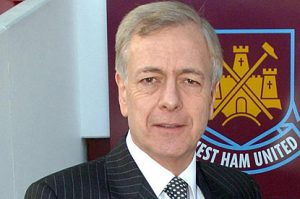 hundred million or more from the International money markets. The take-over effort was led by their then CEO Jim Bowe who died during negotiations.
The bid had all the hallmarks of the Glazer family deal at Manchester United. The Red Devils may have the highest turnover in the world but they also have the largest net debt which now stands at £465m. Enough said!
The Intermarket bid was rejected by the Icelandic's credit committee as they were are unable to show proof of funds. The Guardian later dismissed the bid as a publicity stunt to gain Intermarket free PR. Intermarket were later linked with a take-over of Notts County and Portsmouth but nothing became of those bids either. They went into administration in November 2010 owing £234,000 to their creditors but not before saying they wanted to bid to buy the Olympic Stadium.
The only other credible bid was Tony Fernandes but his record at QPR speaks for itself. The Telegraph named it as the second worst run club in the country after Blackpool.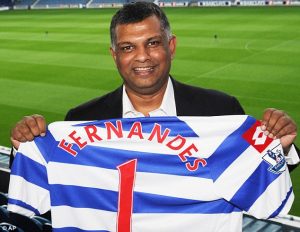 The Telegraph said: "It isn't just the scale of QPR's recent financial losses – £135m in the last two years – but the sensationally careless way they have wasted that money.
In 2013/14, when they successfully bounced back from the Championship, their wage bill was double their turnover and more than twice as much as fellow promotion-winners Leicester City. A hapless season in the Premier League in 2014/15 was punctuated by increasingly desperate rallying cries from chairman Tony Fernandes and QPR's debt now stands at almost £200m.
Furthermore, they face a Football League fine of around £40m for contravening FFP regulations – although the club have mounted a legal challenge against a potentially critical blow to their hopes of yo-yo-ing back to the top flight. No matter how you look at the numbers, QPR's dubious strategy in the transfer market is coming home to roost."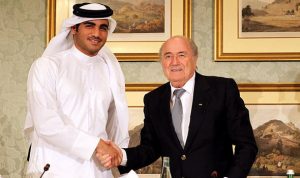 Would we have been better with the now bankrupt finance company loaned up to hilt in massive debt or Tony Fernandes? Ermmm NO in a word.
Next question: Is there  a queue of investors waiting to invest or buy West Ham since 2010. Ermmmm sorry NO again.
The board publicly asked for rich investors to come forward to share their financial risk but only Terry Brown and the Harris family came forward with around £4m for 3.8% of the club and nothing since then.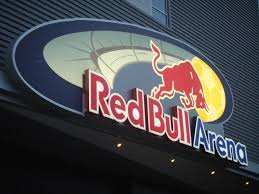 There have been rumours of a one billion pound takeover by Qatar Investment Authority (QIA)  which won the 2022 World Cup under now questionable circumstances.
Additionally, there emerged a fake news Red Bull bid at £650m. Red Bull came out publicly and made a statement that any interest was completely untrue with interest focused on a Premier League side – not just West Ham.
Gold and Sullivan have consistently said the club is not for sale and they want to pass it down to their children.
West Ham's official site said last year: "We did have a tentative approach to buy the club for £650m from external investors in August this year but I want to reiterate that we, the current owners, have no desire to sell the club unless it is to somebody like the King of Saudi Arabia who can take it to a level we cannot ourselves hope to reach."
As David Gold recently said be careful what you wish for!