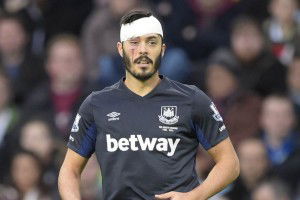 News that West Ham have rebuffed £8m and £9m bids for James Tomkins have come as little surprise. Last month, friend of this site,  Darren Lewis revealed in the Mirror that Sunderland and Crystal Palace had made him a transfer target so that appears to tie in with recent bids.
The two former West Ham managers  Sam Allardyce and Alan Pardew know the 27 year old very well having both managed him in their time in charge of the Hammers.
Tomkins was still in the Academy during Pardew's reign between 2003-2006 but well regarded, Allardyce favored Tonks in the centre of defense in his reign between 2011-2015 playing 148 games under Big Sam.
Tomkins made 25 appearances lase season but many of these were as right back to deputise for the injured Carl Jenkinson.
If I was a betting man I would guess that Sunderland have bid the lower amount of £8m while London rivals Palace have bettered the offer to reach the £9m mark.
Tomkins agent is a certain Mark Curtis who also acts for Sam Allardyce, Adrian and Andy Carroll. That possibly gives Sunderland a small advantage although the chance of staying in London with Palace must be a factor too.
Meanwhile Simon Jones in the Mail suggests Stoke City and West Brom are interested in Tomkins too.