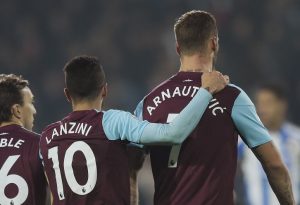 This weekend will hopefully see the return of the deadly partnership of Marko Arnautovic and Manuel Lanzini as the Argentine returns from injury earlier than expected.
Their impressive combined tally despite their recent injuries now stands at 10 goals and 8 assists between them under David Moyes making them one of the best partnerships in the Premier League. Arnautovic has scored 7 goals and made 3 assists while Lanzini has scored 3 and made 5 assists.
The partnership shared just one goal between them under Slaven Bilic this season with zero assists for the pair and no goals from Arnautovic in 7 games under the Croatian's management.
Hammers fans will be hoping they add many more goals and assists between now and the end of the season starting at Anfield this weekend.