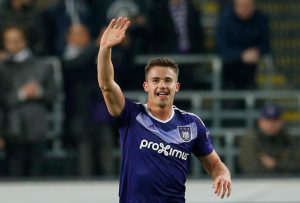 Belgium news outlet HLN says West Ham has finally submitted a formal bid this morning to Anderlecht for Leander Dendoncker.
The report says the Hammers are not confident in landing Tom Cairney from Fulham and have decided to make their move on transfer deadline day.
It claims Anderlecht have already rejected the undisclosed bid claiming they want to keep Dendoncker.
Anderlecht chief executive Herman van Holsbeeck previously said: "Dendoncker is the centrepiece of our defence.  If we let him leave it has to be for a lot of money. We also have to find a replacement for him, even if it is a loan for six months.
"A deal can be done if the interested club puts 25 or 30million euros (£22m-26.5m) on the table for him. I've experienced plenty of difficult transfer windows, but this one is the trickiest of all."