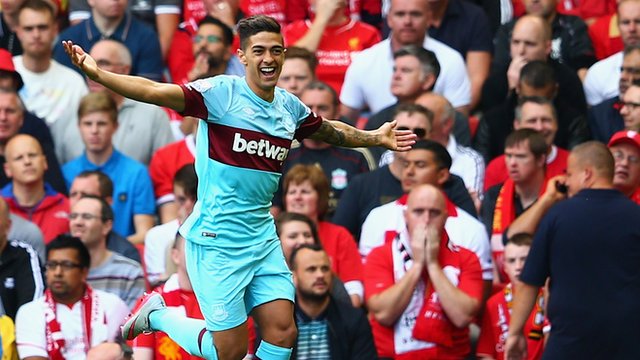 Well he's signed!
At last we can move on – let's just hope he's what we need because until now I haven't met or heard from anyone who knows much about Emanuelle Emenike.
According to Jack Sullivan the loan deal to make him a Hammer – well for three months at least – is done and it's now presumably in the hands of the Nigerian to show us he can land the gig full time.
The price being widely quoted for that is 8 million euros which by coincidence is the same as that for Manu Lanzini – so he'd better be a bit special especially as he is six years older with no sell on value.
Personally, I'm not sure he will get the game time he requires to do that with both Andy Carroll and Diafra Sakho  are now within days of a return to action. I hope he does because that's the whole point in bringing him here I'm told.
Given that Manu has had to wait nearly an entire season and still hasn't been been signed (although I have no doubt he will be) I have my doubts that the double E man will have the time to persuade anyone of his worth.
I found it hard to get excited about this deal from any other perspective than waving  an indifferent goodbye to Mr Jelavic who will now head off to the Orient to trouser a shed load of Chinese Yuan Renmin n Manu signs at the same price!