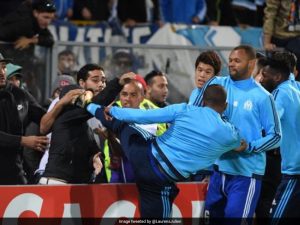 So we do next to nothing of consequence in the transfer window and then clamber in after a 36 year old banned by Uefa for kung-fu kicking a fan!
Now the ageing left back Patrice Evra looks set to arrive at the club – an announcement can be expected.
The only comment we could get out of the club this morning is that people are working hard to get players in to reinforce the "paper thin squad."
Our paper thin squad by the way will include these players:
Patrice Evra, 36
James Collins, 34
Jose Fonte, 34
Pablo Zabaleta, 33
Adrian, 30
Joe Hart, 30
Mark Noble, 30
 Given that a month has just passed when younger, fitter and better players should have been recruited may we ask:  "Exactly what's going on."
Whilst all of that is has been happening a guy whom is was claimed had become a major transfer target -Leander Dendoncker – has explained publicly how bitterly disappointed he was that West Ham had not made it possible.
He didn't know the reasons why – or chose not to explain  them – but common wisdom is that the board didn't bid enough or David Moyes couldn't make his mind up about him.
I suppose we will believe whichever of the two one happens to dislike the most but to add a 36 year old guy with a history of violence and already banned by a ruling body doesn't seem designed to help the atmosphere around the club.