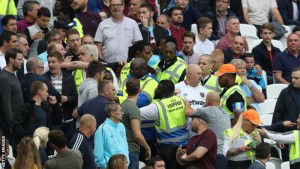 The Football Association will assess reports of crowd trouble at West Ham's match with Watford on Saturday before deciding if further action is required claim the BBC.
The FA are also expected to contact the Hammers and stadium operators on Monday about the events in the stands at the London Stadium on Saturday afternoon.
The Irons could be charged with failure to control spectators under rule E20. The governing could allege that West Ham failed to ensure spectators at the fixture "refrained from provocative and/or abusive and/or threatening and/or violent behaviour"
Possible sanctions include significant fines and being forced to play games behind closed doors.
Last season Blackpool were charged with failing to control their spectators which resulted in a £50,000 fine and playing one game behind closed doors although that later punishment was suspended for one year.