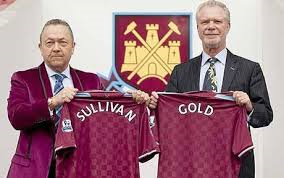 An accusation often aimed at West Ham co-chairmen David Sullivan and David Gold is the amount of times they mention Financial Fair Play and the annual wage cap limit.
West Ham fans claim our chairman are the only ones to mention this regulation and as such see it is used as an excuse not to spend more.
First of all I need to say this: Name me any other Premier League chairmen who would answer fans questions on Twitter or do regular media interviews?
Sullivan appeared on Sky Sports News earlier this week in a frank and honest interview about transfers and he was also featured in a heart warming article about fans in the Daily Mail today. Our Chairmen are the most accessible in the Premier League – we at ClaretandHugh know that for a fact – they are unfailingly helpful whenever we approach them.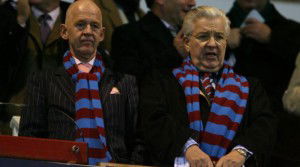 Premier League Chairmen like Daniel Levy and Mike Ashley are anonymous businessmen rarely giving interviews or engaging with their fans which may be a relief given that both give the impression of having had personality by-pass operations!
On FFP it simply isn't true that no other club mentions it. We live so much in our West Ham bubble that we completely fail to notice when other clubs talk about it. Bournemouth chairman Jeff Mostyn, for example, has been quoted as saying he believes existing financial fair play rules are unfair and unsuitable for all clubs.
Chelsea and Southampton's Chairmen have also condemned FFP in the past.
Chelsea's chairman Bruce Buck says "The problem with FFP in essence is it goes a long way to preserving the status quo. One of the great things about football in this country, and many others, is if you are last in League Two you can still hope one day you will be in the Premier League. That is difficult, if not impossible, with FFP."
Nicola Cortes, the former Southampton Chairman previously said: "It is wrong to call it 'financial fair play', it is financial regulation. Though we are a club that believes a lot of things are possible to close the gap in commercial income with a club like Manchester United will be virtually impossible."
Whatever your view on the subject, the financial fair play rules have to be followed or we risk the risk of sanctions. Our Chairmen have invested over £50m of their own money to fund West Ham since 2010.
And had they not fetched into their on pockets this week, be assured that Sam Byram would have been an Everton player, regardless of Roberto Martinez's comments that he wasn't for them.
I would rather have chairmen who run our football club on a sustainable financial model than the boom and bust process we suffered under the Icelandics who bought our great club to its knees saddling us with over £100m of debt in the process.