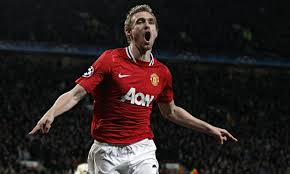 Darren Fletcher is currently starting out on a medical which looks likely to be the sternest ever conducted at the club.
The player's injury and serious illness record is such that the Irons board are determined to leave no stone unturned on the player's well being.
Right at this moment there are some very nervous people at the club who believe this could be a disastrous signing.
One senior source when asked by ClaretandHugh when the outcome of the medical would be known said: "It will be several days – we need to be 100 per cent sure all is well. It will be stringent and cover absolutely everything."
Immediate reaction to the news that the Manchester United midfielder could be on his way to the club has not been great on this site's forums.
Among the comments left are:
O 'Another great idea of our brilliant manager… when he'll finally leave the club it will be a great day and I'll have a party.'
O ' I really can't see the benefit of Fletcher s at the cost reported with his recent track record of unavailability. I was also beginning to think our scouting network was working, but again, maybe I'm wrong. If Sam is worried about not landing Song surely we could have identified someone who plays +30 games a season and is hungry to join a team on the up.'
O 'If we agreed to the original terms of Fletcher's demand this is going to cost us just shy of 11 million quid over 3.5 years. For a player who has played a total of 50 games in the last 4 years. I understand the need to have a back up midfield leader if Song goes, but to agree to such a deal would be crazy. I can't wait to hear the final terms.'
O 'What a shocking piece of business – sorry David's you have given into this manager and being bullied – I don't know what it will take you to realise that that the majority of fans cannot stand him. Please don't go through with this signing – even if Song does not sign Fletcher is not his replacement – we will need to buy again in the summer. We need younger fresher legs. Poyet is a far better prospect.'
O 'Why are we doing this deal?  What happened to our (successful) new transfer strategy? He brings no improvement to our squad and will no doubt become a block to the development of young players like Poyet, at ridiculous expense and risk. He is way past his best, if he wasn't, he would not be released on a free from Manure. '
O 'Well done BFS! Darren Fletcher, 31 years old, a perfect perspective player! The ideal replacement of Song… Don't worry, if Fletcher doesn't work we have Nolan… The future is ours!'
Only a couple spoke in favour of the deal with one correspondent saying: "Well done to our manager for having an eye on good playmakers and bargains! Fletcher can be a very good addition to an already brilliant squad assembled by Big Sam. Let's hope it all goes to plan! COYI….